ARCHICAD – Rhinoceros – Grasshopper Connection
Rhino – Grasshopper – ARCHICAD Toolset
Rhino – Grasshopper – ARCHICAD Toolset connects the best design tools for the different design stages on both Mac and Windows platforms. These tools fill a gap in the design process between early stage design and Building Information Modeling. They offer solutions for seamless, bi-directional geometry transfer as well as a way to translate basic geometrical shapes into full BIM elements while adding algorithmic editing functionality.
Grasshopper — ARCHICAD Live Connection
Generate and manipulate BIM elements in ARCHICAD directly from Grasshopper

This tool enables Rhino/Grasshopper and ARCHICAD to communicate directly in order to create and manipulate a BIM model in full or in parts through Grasshopper's visual scripting interface. Designers whose work is currently based on either Rhino/Grasshopper or ARCHICAD can leverage its functionality to their advantage. The live, associative and bi-directional nature of the connection enables users to build versatile workflows and utilize the connection in multiple scenarios — using both Apple Mac OS or Microsoft Windows operating systems.
In projects where the design is primarily determined by using the Rhino-Grasshopper toolset, users can apply the GH-AC Connection to convert the design into a full BIM model and still retain some of the algorithmic editing capabilities. In other cases, Rhino/Grasshopper (or other Rhino plug-in) can be used to complement an existing BIM project with algorithmic functions or freeform modelling environment in any stage of the design process. In these situations, the framework or reference geometry for the part designed in Grasshopper can be taken directly from ARCHICAD itself.
Grasshopper-ARCHICAD Live Connection V2.0
The latest update of GRAPHISOFT's Grasshopper-ARCHICAD live connection opens a new level of intelligent workflows between the two design environments (algorithmic design and BIM).
With the brand new "Deconstruct" function, users can now use their BIM models as the backbone of their design, adding algorithmic design logic using Grasshopper. This allows designers to maintain the basic design logic in BIM (such as the base geometry of the building) and extend that with intelligent design details that follow changes in the core design.
A simple example is demonstrated in the video below, where building survey data about the built environment is being used to re-create the building information model of an urban environment after a recent earthquake in Italy.
Check out the winners of GRAPHISOFT's 'Algorithmic Design Meets BIM' Competition.
See ARCHICAD, Rhino and Grasshopper in Action
To see the real-time, bi-directional workflows between ARCHICAD, Rhino and Grasshopper in action, watch these videos presenting different real-life workflow scenarios!
Rhinoceros Import/Export Add-ons
Exchange models in Rhinoceros native file format

Designers may choose to work with a "reference model workflow" by exporting and importing models between ARCHICAD and Rhinoceros using the native Rhinoceros (.3dm) file format.

Rhino Export enables users to pass on the geometry — using various representation methods — of a model produced in ARCHICAD to Rhino.
Rhino Import enables users to pass on a model created in Rhino to ARCHICAD. The imported model will appear as a GDL object maintaining the logical buildup of the original Rhino model.
Rhinoceros — GDL Converter
Create native ARCHICAD objects in Rhinoceros
With this toolset, designers can save a selected part of a Rhino model in a native ARCHICAD object file (.gsm or .lcf) format. Depending on the complexity of the model and its intended use in ARCHICAD, users can choose to generate a single object (.gsm) from Rhino or library container file (.lcf) containing multiple object parts.

The " Single Object Import" workflow is recommended to import small‐sized single objects or groups of small objects in .gsm format to ARCHICAD.
The " Complex Structure Import" workflow is recommended to import — and also update — larger, complex Rhino models as a coherent set of GDL objects, using ARCHICAD's LCF (Library Container File).
---
To see how to import Rhinoceros models into ARCHICAD as native GSM objects (.gsm or .lcf files) please view this video.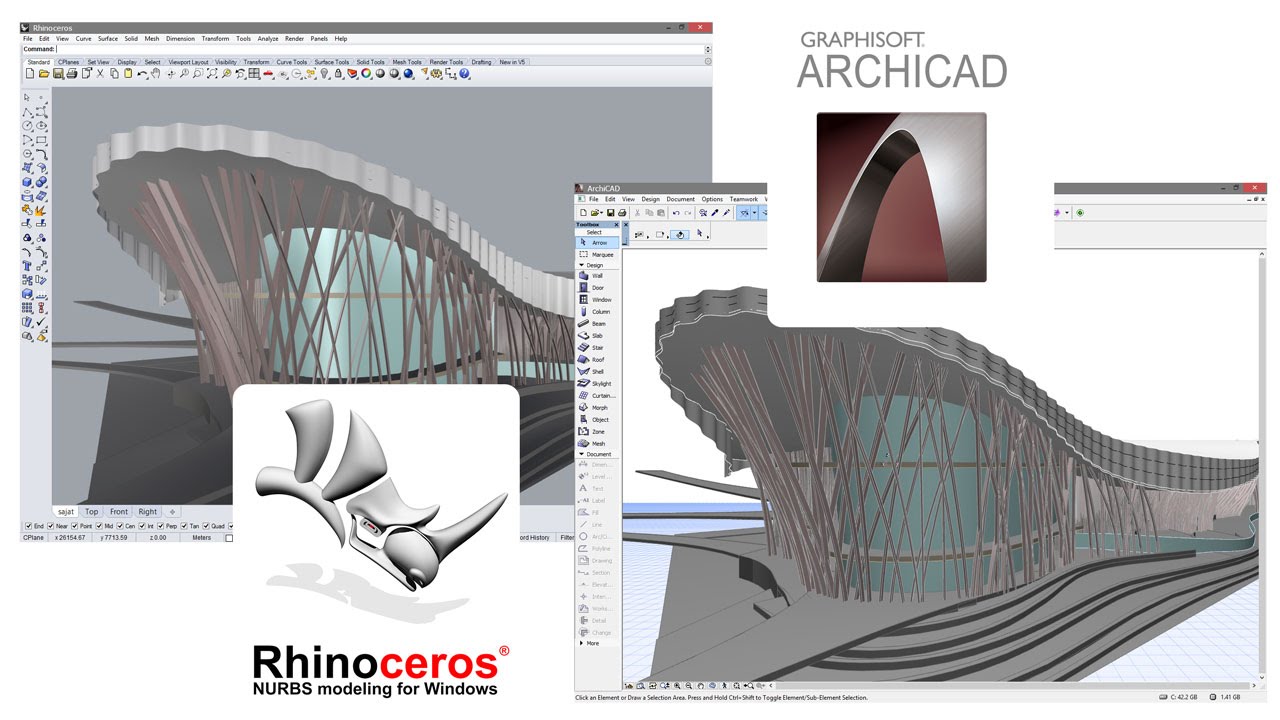 Single Object Import
This video clip presents how to to import small‐sized single objects or groups of small objects created in Rhino to ARCHICAD in .gsm file format.